Driven Solo Agent Builds Top Ranking Team in Syracuse, New York with Zurple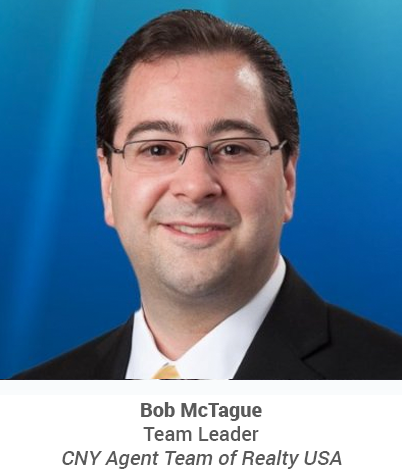 Bob began his career in real estate in 2006. Though the internet was just starting to become a hot topic in real estate, Bob understood that building an online brand was essential to long-term success. His goal was to build a team of agents who share his passion and drive
- which he did in 2008.
STATS:
leads per year
(from Zurple)


transactions per year
(from Zurple leads)


average commission
(per transaction)
---
Company Bio: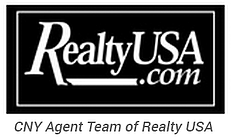 The CNY Agent Team of Realty USA, led by Bob McTague, is an elite group of top performing agents wholly dedicated to helping their clients execute flawless real estate transactions. The team offers decades of combined experience and dozens of quality resources for buyers and sellers in Onondaga, Madison, Oswego, and Cayuga counties.


---
The Early Days: From Investor to Agent
In 2004, Bob sold his business in Massachusetts and moved to Syracuse, New York - where he began investing in real estate. As an investor, he learned the ins and outs of the real estate space and in 2006, Bob decided it was time to become a licensed real estate agent so he could help other people with their life-changing real estate transactions. Bob started to build his online brand and, thanks to his industry background, quickly established himself as a go-to resource in the New York area. In 2008, Bob started to develop The CNY Agent Team of Realty USA and he needed a system that he could use for lead generation and management - so he contacted Zurple.
Bob was driven to grow quickly and make himself known as a top agent in the Syracuse area. In order to do so, he worked diligently to establish a professional online brand and to incorporate proven systems that would help him consistently generate leads, manage those leads and build a long-term nurturing system that would act as an ever-growing lead pipeline to feed his business.
Zurple's software provided the lead generation solution Bob needed. He consistently started receiving 40+ qualified leads in his target cities every month. The problem was, most of the leads that came in through his site weren't ready to buy. In fact, most of the time - Bob's clients were on a 12 month cycle, meaning that it actually took a new lead a year before they were ready to seriously consider a transaction.


Zurple's automated marketing system was a perfect fit in this situation because as the leads were considering their real estate options, Zurple watched their behavior and sent relevant follow-up messages on an ongoing basis - keeping Bob's name front of mind. Then, when the lead was ready to talk to an agent - they knew exactly who to reach out to. Another major benefit is that by having an ever-growing lead database to reach out to, Bob is able to provide his sellers with peace of mind, knowing that he's got thousands of potential buyers ready to look at new listings.


---
"Zurple is different.
Because of their built-in behavioral marketing automation, the system doesn't just manage leads, it develops relationships."
---
Nothing in Real Estate is "Set it and Forget it"
After Bob built out his team, his biggest challenge was figuring out how to find the time to effectively respond to and nurture all the leads that were generated from his large-scale lead generation programs. One of the biggest perks of Zurple's software is the fast follow-up. The system replies to all new lead inquiries within a five minutes, a feature that Bob has found to be exceptionally valuable with his extremely busy schedule.
Bob and his team quickly realized that Zurple was a great lead nurturing software - but they didn't just sign up for the program and walked away. Though the software is built to provide automated marketing, the most successful Zurple agents are those who play a proactive role in monitoring their pipeline. Agents like Bob who make an effort to follow-up on all alerts for outreach and identify additional opportunities for lead engagement see the best, most consistent results. Bob dedicates an hour or two each day to managing his Zurple and Zillow systems - and he even hired an inside sales specialist to proactively manage his lead pipeline and send one-on-one follow-up as needed.
With Zurple, Bob consistently gets around 500 leads and 30 transactions each year.
---
"

Zurple fills in the cracks when you're busy and helps you stay connected with all your leads

."
---
Bob McTague & The CNY Agent Team of Realty USA - Recap:
Throughout the years, Bob has tested other systems but quickly found they lacked in their scope and ability to build meaningful relationships with leads.

As a 5 year customer, Bob is sold and is confident that Zurple is and will continue to be an invaluable asset to his real estate business.

---
"Zurple is a user friendly system.
My whole team uses it on a daily basis
and we consistently see big results."
---
2018 Update:
Over 16,000 hot behavior alerts triggered in 2017
Over 93,000 total site visits in 2017
22% of Bob's leads have become an active opportunity, or communicated with him
Bob has imported over 5,000 of his own leads into the Zurple system. Every agent has the ability to import their existing pipeline directly into Zurple's Back Office.Since Bob's initial import, 22% of his leads have communicated with him (Note: this statistic excludes leads responding saying they are not interested). Bob is proof that any agent can maximize ROI on their existing pipeline with Zurple software.
---

Ready to start your success story?